Thames Valley Fly Dressers
THAMES VALLEY
FLY DRESSERS
BRANCH OF FLY DRESSERS GUILD

Members Lunch at the Fly Fishers Club
Monday 15th January 2018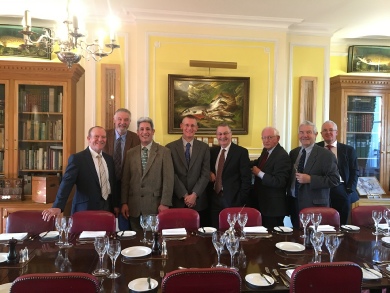 Members of the TVFDG in January visited the Flyfishers Club . Members included Peter W, John H, Paul L, Roger T, Richard E, David J, Greg Payne and John Knott Flyfishers Club archivist. . On our visit members saw collections of flies tied by some of the fly fishing legends including Halford, fly tying wallets including Marryat's and array of artefacts from the likes of Skues, Lunn Holland to name but a few. The tour was followed by an excellent lunch.
About the Club - The Flyfishers' Club is one of the world's most interesting and entertaining flyfishing fraternities, with a long tradition of warmth and friendliness.
Founded in 1884, the Club has always counted many of flyfishing's most prominent names among its Members, and the biannual Flyfishers' Journal is highly collectible and internationally regarded as an authoritative record of the sport. The Club owns no fishing and is 'non-political', although some Members are closely associated with the major national game angling bodies.
https://flyfishersclub.org.uk/